4 steps to start freelancing
Not all freelancers start out as freelancers, most of them(us) start out as employees. Yes, we are people who are slaves of the Bundy Clock. Freelancing used to refer to people who work at an office and do odd, but related jobs for someone else. Currently, freelancing is more about freedom. The freedom from constant office pressures, freedom from the 9-5 crunch and freedom from the fixed income situation.  So how on earth would one start freelancing? Here are 4 steps to start freelancing
1. Choose your Craft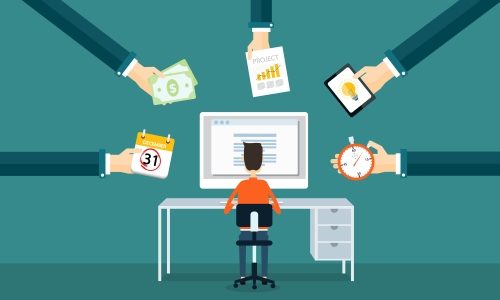 Almost any aspect of office work can now be outsourced. If you have some extra skill set like programming, designing, writing, then that is potential enough to develop into some freelance work. If you have more than one extra skill, choose one that you think you would enjoy doing more than the others.
Do not worry about not having enough experience. Your current job might be experienced enough for you to go on your own.
2.Create your Identity
You can begin by creating your own website, positioning yourself and showing visitors your specialization. Within your chosen craft, you should also probably choose what industry you prefer to work with. As a designer, you might want to work with promotional companies, or as a developer, you might want to work with a web designer.
Having a page on Facebook might be good, but some clients might think that you are not good in your trade since maybe you cannot afford to have your own domain name and own email address. Social Media should complement your website. In social media, you can send your friends or connections to your site by being active in creating posts with links to your site.
After you have created your own website or blog, register it with google and other search engines so that your site will be indexed and placed into their search records.
3.Build your portfolio
Once you create your own website or blog, you can build your portfolio initially including any related work with your previous or current job. If your job brought a product, a marketing program to success writes it down. The current market for freelancers does not care as to whether you finished college or what course you took. Bottom line is if you can do what the client requires.
4.Create a Venue for Accepting payment
If your clients are far away or are abroad. You need to provide them with a payment solution that would work for both you and the client. Clients normally shy away from "Western Union" type of payment as most "fly-by-night" freelancers choose this.
PayPal
. Good thing is, that majority of Freelancers use Paypal for online transactions and online payments from clients. One only needs an email address. Payments can be transferred to your own bank account by just using the withdrawal feature in Paypal's account interface.
But the problem you will encounter even if you have a bank account is you should also have a credit card. Credit cards require you to provide identification and proof of income. Getting a debit card on the other hand just requires some identification plus the debit card yearly subscription.
Debit cards are handy, and unlike credit cards, you will never incur any debt as you spend only what is on your debit card. You can use your debit card (visa and/or Mastercard) to buy groceries cashlessly by just having the cashier swipe your card just like a credit card.
Just make sure that you have the balance to pay for things. You can also use your debit card like an ATM card.
---
After doing all the above, you might need to be going around freelancing site like
work
,
toptal
,
99 designs
,
PeoplePerHour
and
Simply Hired
. Start talking to people and trying to sell yourself and your services. Remember, freelancing can bring you a lifetime of successes, happiness and maybe even wealth. So please try to think more long-term than short-term. Most "freelance scammers," think short-term.