Adjusting to the New Normal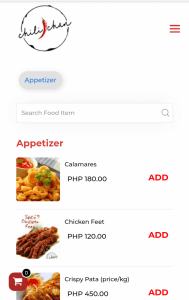 We are all caught in this pandemic and we need to be adjusting to the new normal.  Some of us who have businesses wonder how we will ever survive.  A client friend went to me and asked what could be done to help save her flourishing business (pre covid-19).
They have a small restaurant located in old town of Morong and had an increasing patronage with their establishment.
With the rent a constant with their expenses.  Even with a postponement of rent payment, once the business climate shows some semblance of normalcy, such rent would have then ballooned up and is left yet to be paid.
Some of the labor, especially the cook needs to somehow be given remuneration in order to keep them in service.
Adjusting to the New Normal
They have reopened about a month ago and was thinking of ways to supplement or add to the restaurant's income.  That's when I suggest to my friend to build her an online ordering site.  Since most of their clientele were in their home town and nearby places. As per my advice, I told them that we can build a basic website for them that is responsive and viewable on smartphones.  This then would be the backbone of her online delivery.
They are already excited to use the website.  The website's backend has the normal trimmings of a content management system (We used WordPress as the CMS).  In the backend, they can see orders as they come, and are able to manually input the status of each order. With each order accumulating to a tally at the end of each day.  The system is rather simple since it mainly takes orders.  With a tablet in the kitchen the chef can monitor and assign which food to prepare in the sequence that they came.
Her clientele just had to order through the site and pay C.O.D.  The site is currently undergoing testing and will be used within the next month or so.