Catchy-Pan is engaged in the wholesale and retail of bangus from Dagupan – the Milkfish capital of the Philippines!
If you are looking into starting a business with quality products but have little "puhunan" or
"capital",
we at CATCHY-PAN got the perfect opportunity for you!
For as low as P2,000, you can be one of Catchy-Pan's COMMUNITY RESELLERS and offer our delicious "bangus" or "
milkfish"
products to your family/friends, neighbors, ka-barangay, officemates, etc.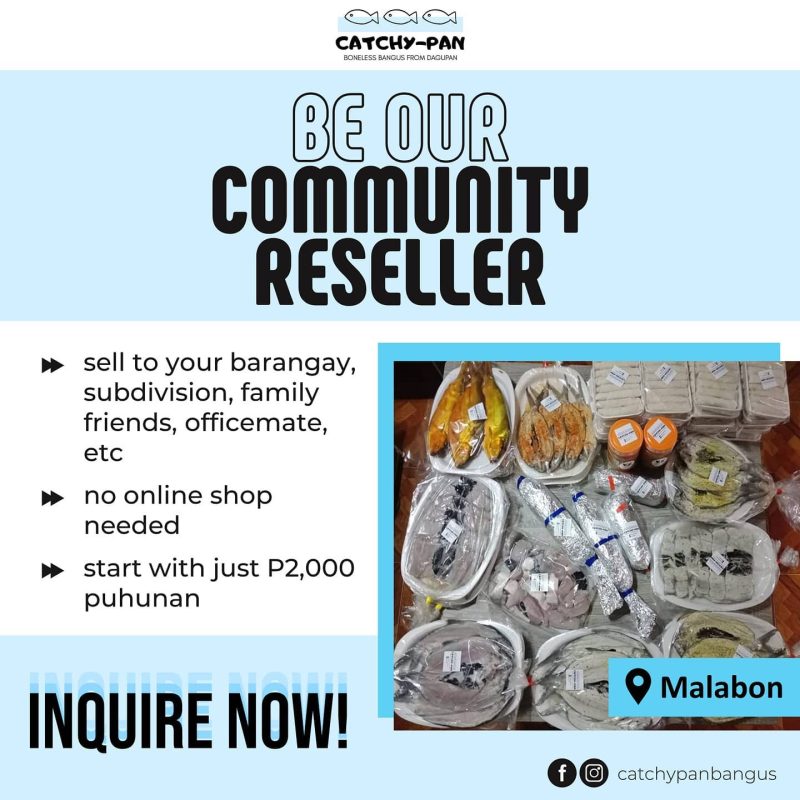 If you are interested in becoming a Community Reseller, message us or contact one of our Catchy Hub Managers:
Metro North:
Kerwin
MATSARAp PH
Metro Central:
Sandra
Goods by SanDee
Metro South:
Niña
Tienda La Ben
#CatchyPanBangusResellers #CatchyPanFamily #CatchyPanBangus #DagupanBangus
#BonelessBangus #MarinatedBonelessBangus
#RellenongBangus #DaingNaBangus #BangusBelly
#LumpiangBangus #TinapangBangus #BangusBusiness
#Bangus #PinoyFood #PinoyUlam #PanlasangPinoy
#SupportLocal #PagkaingPinoy #WhatToEatPH #FilipinoFood
SupportLocalPH #PinoyEats #EatPilipinas #Kainventures