5 Strategies in Running an Online Meeting
5 Strategies in Running an Online Meeting.
Covid-19 looks to be staying with us a little longer.  With the office culture temporarily on hold, most if not all are still adjusting to working from home.  There would be times when you need to schedule department meetings online so here are 5 Strategies in Running an Online Meeting.
The great thing that unites us all is the internet and now more than ever, it has shown great potential for partial normalization of our lives. Video conference or meetings give us the chance to connect with our peers and colleagues.
Here are 5 Strategies in Running an Online Meeting.
1. Using the right Platform for Running an Online Meeting.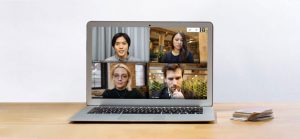 Before starting an online meeting there must be a consensus as to which platform to use.
This would be dependent on many things: 1) the internet connection of each participant, there are those who have high speed optical connections and there are those who just use pocket wifi's. 2) features of the platform like are they going to ask you to download some program and run it to be able to attend the meeting? 3) is the platform or software readily available for download or for use on your internet browsers on mobile phones, tablets, laptops or pc's and macs?
2. Inform your group of the Rules
To have an orderly meeting, it is always better to set the guidelines prior.  You might want everyone to have their phones on silent, limit chitchat to after the meeting, have your participants sit in a comfortable and quiet place.
Also have participants check their equipment for sound and video. And consider appointing moderators so as to track time as most platforms, specially the free ones, set a time limit per session.
3. Prepare the Agenda

One of the most important items for meetings is having an agenda prepared.  This is so there would be a chronological line of thought for smooth discussions.
Everything to be discussed must be listed.  Include within the agenda, everything that is to be taken up. Give your moderator/s and all participants a copy before the meeting so as minimize any mix-ups. This could also help key persons prepare for questions and answers.
Have the moderators, do a recap after every item on the agenda to make sure everyone is on the same page.
4. Get everyone Engaged in the meeting
It would be very hard to keep everyone in the meeting engaged.  There would be attendees that do not have any role and may find themselves distracted and struggling to understand the conversation
We need to keep everyone interested in the meeting.  This can be done by eliminating formalite, encourage video presentations, for large groups have each participant introduce themselves. Make sure moderators do not let any single person monopolize discussions.
And again in the end of each meeting have moderators recap what was discussed. Also make sure that any assignments or tasks are assigned within the meeting.
5. Follow Ups
After the meeting,  always follow up with everyone by sending followup emails individually or as a group email.  Aside from the moderators have some one take minutes of the meeting.  This can be used later on to be included with follow-up emails
When you're in a long meeting with lots of information, it's easy to forget or fail to pick up some talking points. Follow-up emails and recordings greatly reduce confusion at the cost of very little extra work.