Recruitment and Hiring in 2017
With advances in social media, the job of recruiters or hiring managers have become a whole lot easier. Gone are the days of waiting for resumés to pour in and the co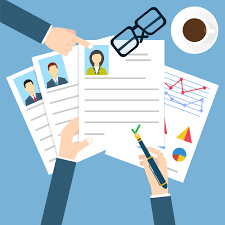 untless hours of sifting through the pile.
Most of the serious candidates for job offers have updated their social media accounts. And most would have made these accounts look and sound more formal. Recruiters only have to search for certain criteria. Read each possible candidate's profile and print their initial profile for their file.
Today's recruitment process lack the formality and cordiality of the whole process missing in the recruitment process are the basic protocols for both recruiter and candidate.
1) Inquiry
Recruiter
– makes sure they communicate the job specification and qualifications clear and in plain-spoken English. Unless, of course, the job is a technical one.
Candidate
-makes sure, based on published qualifications, he/she is truly qualified before inquiring.
2) Application
Recruiter –
treats each application with confidentiality and with objectivity.
Candidate –
tries to make their resumés as professional-looking as possible. One tip is to have a Linkedin profile that is almost identical as some recruiters will search for candidates through social media networks like Linkedin.
3) Updates
Recruiter –
as a courtesy to candidates who are possible future employees, recruiters should try to update each candidate that passes through their desks.
Candidate
– should be patient and wait for any feedback.
4) Rejection
Recruiter
– should update a candidate on whether the candidate will move to the next step in the recruitment process or has been taken off the list of those shortlisted
.
Candidate – 
should respond and thank the recruiter and move on.
I myself have recently tried but failed, to get back into the workforce.  I tried sending and applying for different types of jobs. 99% never got back to me.
It left me wondering.
Anyway, one such application I sent was to the U.N. I was not even shortlisted.  But the recruiter had the decency and courtesy to write to me to tell me.
I was happy with the reply that, though I was rejected outright the person took the time to write, and I appreciated that.
Feedback is very important since most applicants are pressed for time and some are desperately looking for work and are pressured to lay down all positive applications and evaluate which is best for them.