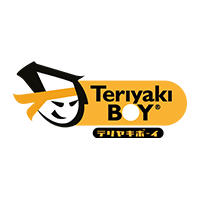 Teriyaki Boy set the category between quick service and high end Japanese restaurants by offering Japanese favorites at a reasonable price.
Being in the industry for more than a decade, an aggressive re-branding campaign was done to update its logo and interiors, thus communicating the brand's thrust of keeping pace with its young and discriminating market.
Today, the brand continues to create exciting new dishes while maintaining high levels of quality ingredients and cooking procedures.
Teriyaki Boy stores are targeted toward locations that assure market sustainability,  and periodic assessment of existing store locations is being done by the Company.
Fees (Min)
8000000
Fees (Max)
10500000
Inclusions
This includes the following: a) store construction b) equipments, machineries, furnitures and fixtures c) initial manpower hiring and training d) pre-opening marketing support and operations support e) franchise Fee An initial training program will be provided to the franchisee, management team and staff. The training fee is already included in the initial investment. Aside from the National level promotions and advertising, Teriyaki Boy continue to do periodic visits by Area Managers to serve as coaches and ensure implementation of Teriyaki Boy system and standards.
Initial Term
Ten (10) years and renewable for another five (5) years
Required Space
The required floor area ranges from 100sqm to 120sqm.
Inline store or mall based store,
This includes the following: a) store construction b) equipments, machineries, furnitures and fixtures c) initial manpower hiring and training d) pre-opening marketing support and operations support e) franchise Fee The required floor area ranges from 100sqm to 120sqm.

Package Price / Franchise Fee PHP P8M to P10.5M