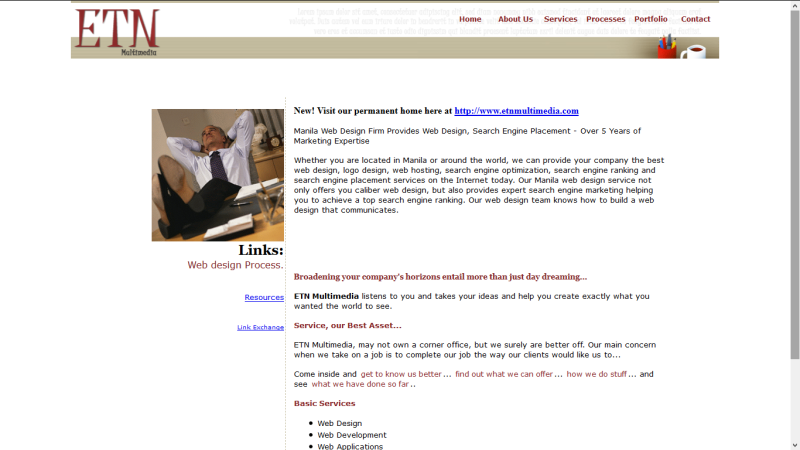 From Web Design to Web Development
Back in 1995 I, together with my partner, started out by selling analog mobile phones and pagers and were there during the introduction of GSM technology. Our corporate office was located in the city of Makati and that is where we started our network.
Unfortunately, market forces shifted and instead of being a seller's market it became a consumer's market, which is the way is really should be.  Sales were the same but the income derived from such was suddenly and significantly lower.  We decided to cash out and ventured into building home and office PCs.  We were building computers based on our client's own specifications and thought that Computers and computer systems need not be expensive if we offer the client exactly what they needed.  ETN informally halted operations around 1997.
(taken from http://web.archive.org/web/20000517222810im_/http://www.biztoolz.com/images/bizbaner.gif)
Around mid 1998, when the web was at its infancy, ETN was revitalized and was packaged as Biztoolz.com  (domain registered July 31, 1998) and later as ETNWeb.   (click here to see one of the sites we created during the time, unfortunately this was the only site we were able to salvage from a broken hard drive.) ETNWeb was finaly repackaged as ETN Multimedia and was registered on June 30, 2008,  initially creating small websites for individuals and some startups.1
Personal Background
I started tinkering with web design somewhere around the late 1990's utilizing only  what I had then.  For a very basic WYSIWYG editor, I used the Netscape Navigator which mainly functioned as a browser. For graphics I had to go around looking for images on what was the infant internet, if not, I would use the Adobe Pagemaker as a graphics editor then print-screen and use irfanview to crop and save gif's and jpg's.
Around the year 2000, I was introduced to Adobe Photoshop and Macromedia's Dreamweaver.  And somewhere around 2005, i was introduced to "Web Development" with ASP and IIS.  ASP was the language I first learnt and IIS was the first platform, that was built into windows, that I used to run and test ASP code.  Unfortunately, it was then the time, and I would gladly accept any corrections on this, where commercial Windows hosting had higher rates of downtimes as against linux servers.  There were also certain components on Windows hosting that clients would need to have paid for on top and above the hosting costs.
At around 2006-2007, I shifted to PHP and commercial linux hosting. It was also around this time that I decided to create my own website.  At that time, it was not that I was skimping, I just felt I knew the web enough to get my site on free hosting using a free domain name. In other words, ETN Multimedia had a domain name of http://etnph.co.nr and was hosted on http://alftan.freehostia.com/etn-web.  Also during this earlier time, I did not have Jquery yet, CSS was a mess with most if not all the browsers and yes websites made then cannot be viewed comfortably with handheld devices.  In place of IIS one would have to install (on a windows computer) a WAMP setup to have a "localhost" or a local server where you could program code and run these, prior to uploading on an actual website.
HTML version at that time was 3.0 and eventually went to 4.0.  Right now, as of this writing, current version is 5.0.  Version 5.0 introduced the entry of responsive websites. With the advent of WordPress, I have taken it upon myself to look into the benefits of working with a CMS.
In comparison, the old etn site was created using Dreamweaver, with HTML 4.0 written manually.  The current site was create with WordPress and is responsive.